Former Longview High School football player and current San Francisco 49ers' offensive tackle Trent Williams came home to host his annual Silverback Football Camp at Longview High School's Lobo Stadium on Friday afternoon.
He hosts the event to help develop the skills of area athletes and provide something the Longview area didn't have when he was growing up.
"Being able to give back to the community, to the place that made me who I am, and to the kids that are sitting in the same building and classroom that I was sitting in, that's the most gratifying part of all of this," said Williams. "We didn't have anything annual like this when I was coming up. I know I would've loved to have this, so it's a no-brainer for me if I have the resources to come back and pour that into the same kids that were in my shoes."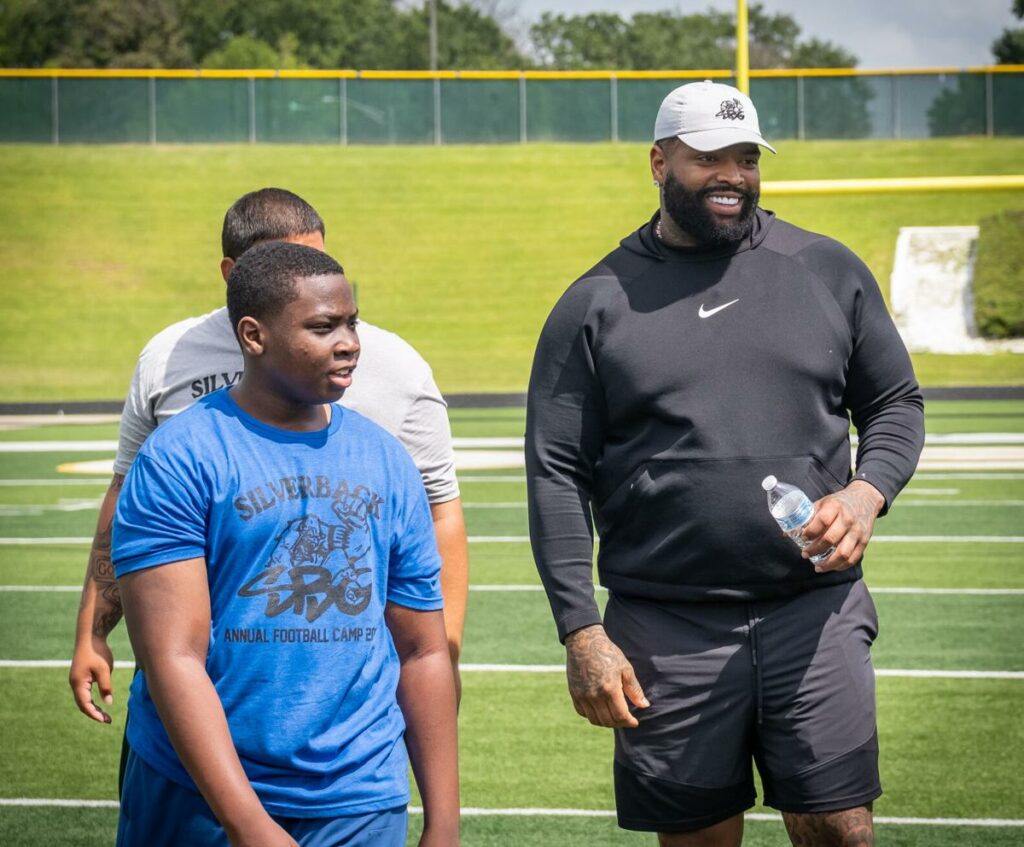 Williams is thankful for everything Longview High School has done for him, and knows he wouldn't be where he is today without it.
"Being able to do it here, the very turf that I kind of made my name on, it means a lot," he said of hosting the camp at his alma mater. "Everything comes full circle. Coach [John] King and his staff, they welcome me with open arms every time I come in. Whatever I need, they make sure I get it. Make sure I can get whatever done. They put just as big a hand as I am in me giving back. I couldn't have done it without Longview High. They make this a very easy and enjoyable experience for me and the kids. Credit to the staff here at Longview High, Coach King, and my mom [Veronica] does a great job every year. It feels like home."
Williams' contribution to East Texas communities is noticeable because large crowds of football players continue to attend his camps.
"Every year, it's a pretty good turnout," said Williams. "We had a max number of kids. They come out and compete. They grind. The thing I love about coming back to East Texas, especially Longview, is how serious the kids are and how advanced they are. I want to aid in that by bringing different coaches, teaching them different things, and letting them compete in different types of atmospheres. The kids here are supremely gifted. They always seem to have a leg up."
One of those athletes is Gladewater senior offensive lineman Kenneth Wise. He started coming to Williams' camps at the age of 13 and made his third appearance on Friday. Wise's high school football career is better off because of the camps.
"It was a blessing," Wise said of the camp. "I like coming out here. It's always fun. Always a good place to compete with other people."
"It was a good experience, more learning [and] more people to compete with," he said of Friday's event. "Helps with ability to better run block and pass block."
The athletes make the most of the event because they know they're learning from one of the best. In March, Williams extended his stay with the San Francisco 49ers when he signed a six-year, $138.06 million dollar deal that puts him in the NFL record books as the highest-paid offensive lineman in league history.
"Getting paid always feels good," Williams said of his record contract. "I couldn't name a better organization to be with than the 49ers. They do everything 10 out of 10 and they're an A-plus organization. A lot of class. I have a chance to do a lot of things I haven't done in the past, which is have a chance to go deep in the playoffs or fight for a ring. I'm really ecstatic about the opportunity."
But, don't think he's changed much. He still enjoys the things that Longview offers.
"I'm in California now," he said. "It's a little fast. It's definitely not Longview. I miss that family atmosphere that comes with being from a close-knit community, such as Longview. I miss the food and a lot of stuff. I love coming back. Being able to do this [camp] in Longview is where the heart is at."